2nd Session of UCD's Party Congress Convened
Expected by all party members and staff, the 2nd session of UCD's Party congress was triumphantly convened on Apr. 28, 2019. With great trust endowed by UCD's more than 1300 Party members, over 138 delegates from various units gathered to discuss about the best policies for UCD's Party building and the reform and development of the enterprise.
The congress reviewed in retrospect the path of development taken by UCD over three years since the last congress was held, mapped out UCD's future development and, in the meantime, called on all Party members and staff to write a brand-new chapter by contributing great endeavors for the realization of UCD's sustainable and high-quality development and its vision to become "an integrated and design-led urban construction service provider". Members of UCD's 2nd Party committee and discipline inspection commission were elected at the congress.
On the morning of Apr. 28, the hall for the congress was solemn and ceremonious, filled with a go-ahead atmosphere. Members of the presidium, UCD's deputy Party chief Li Weihong and the organization department head of UCD's Party committee Wang Zhiyong were seated in the front row of the rostrum.
With the national anthem being played solemnly, the 2nd session of UCD's Party congress kicked off officially. Comrade Li Guoqing made a report on behalf of UCD's Party committee entitled Motivate Innovation Potentials and Agglomerate Development Impetus to Strive for the Realization of UCD's Sustainable and High-Quality Development. Comrade Li Siguo, on behalf of UCD's discipline inspection commission, made a report entitled Promote Strict and All-round Party Governance Deeper and Wider and Make Great Efforts to Start a New Journey for the Construction of Party Conduct and Honest and Clean Governance in the New Era. UCD's deputy Part secretary Li Weihong extended warm congratulations to the successful convening of the congress on behalf of the higher Party committees.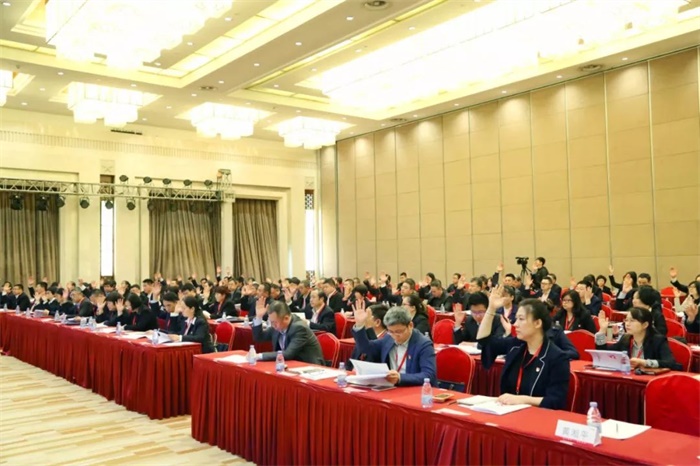 On the afternoon of Apr. 28, under the supervision of scrutineers, 138 delegates elected members of UCD's 2nd Party committee and discipline inspection commission by way of secret ballot. The election results were submitted to UCD's Party committee for approval.
Comrade Li Guoqing delivered the closing speech. All items on the agenda were successfully completed at the congress, which came to a successful close in the grand music of the Internationale.